Hotel key cards
Title: Custom & Branded Key Cards for Independent, Boutique Hotels
Create a unique and branded check-in experience for your guests with specialized hotel key cards.
Small-scale, independent, boutique hotel owners like you use customized and branded key cards to showcase their brand, differentiate from the competition, and offer seamless functionality to their guests.
Choose Plastilam—a premier provider of hotel key cards
At Plastilam—a premier provider of key cards—we understand the role key cards play in defining your client experience, and we support our customers with factory-direct pricing and personalized concierge" customer service that makes key card ordering easy and stress-free. Let us walk you through what Plastliam offers.
The Custom Hotel Key Card Opportunity
It's 2023, and as a small business decision-maker, you need keyless access cards that reflect the future of security, convenience, and reliability in the hospitality industry. If you can make a card that many clients want to carry in their wallet, you have a chance to deiver a value-added experience.
RFID Key Cards
RFID access control systems use radio frequencies to give holders access to their assigned rooms. work with most major lock systems, including Acculock, Cisa, Kaba/ILCO, and more. High-quality and durable, our secure RFID key cards are safe and comply with the latest hotel industry encryption standards.
Magnetic Stripe Key Cards
Magnetic stripe hotel key cards are used in modern access control systems which provide protection for both travelers and hotel management. Mag stripe hotel cards feature an encoding track programmed to let a holder unlock only their assigned room specifically. When used in a swiping motion, the card is able to transfer information that verifies the holder is permitted to enter.
Available in HiCo and LoCo, our magnetic strips are laminated flush onto these hotel room key cards, with the track protected by a thin layer of clear PVC to ensure durability.
Generic Hotel Key Cards
We offer lightning-fast turnaround on reliable generic key cards that are produced with your hotel's technology in mind to ensure flawless functionality. View our generic door keys used by major hotel brands and boutique properties on the Gallery Page and get inspired.
Blank Hotel Key Cards
Shop for blank hotel key cards with RFID or Mag Stripe to customize access control in-house for your hotel property. Our RFID key cards work with most major lock manufacturers' lock systems.
https://elements.envato.com/male-hand-opening-the-hotel-r​​oom-electronic-lock-w-42CXEFK
Branded Hotel Key Cards Make an Impression
In the hospitality industry, first impressions go a long way. Create a lasting impression on your guests with unique room keys that stand out among the monochromatic big brands.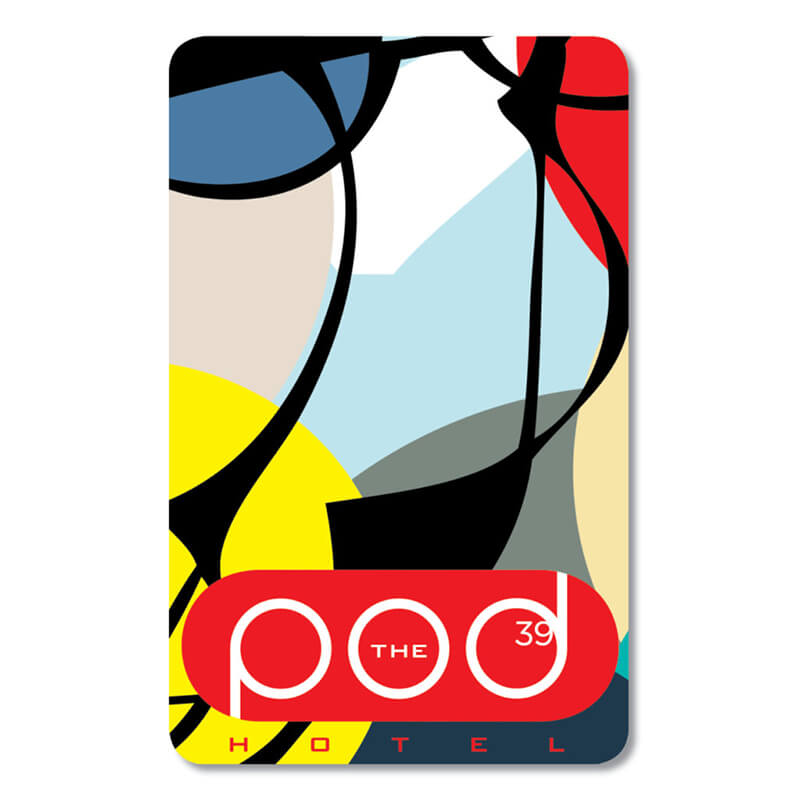 Plastilam offers an exclusive selection of RFID and magnetic/mag stripe keycards that are available as blank cards or customizable to reflect your brand logo and colors. We also have a selection of templates and designs to help you get started. Choose the type of access cards you need, and we'll take care of the rest for you!
Personalized Service for Small Businesses
At Plastilam, we understand that every business is special, including yours! We take great pride in helping entrepreneurs fulfill their vision of designing a hospitality experience that is uniquely theirs.
We bring this passion to life by providing personalized "concierge" customer service to each client throughout the order process—right from key selection to printing design proof and checking details before production begins.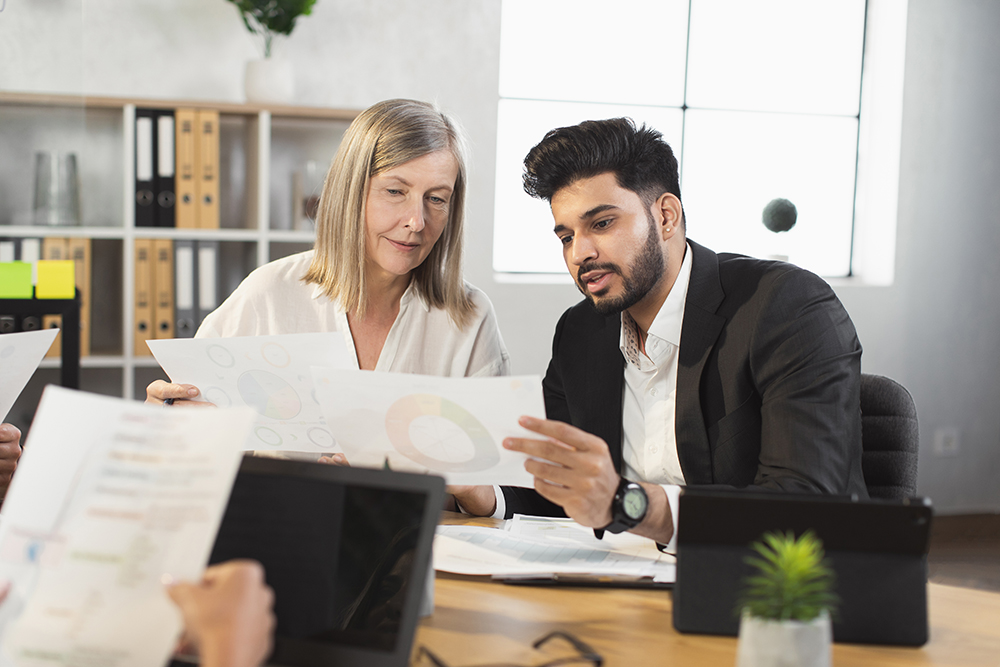 Working manufacturer-direct, we have the design, production, and logistics expertise to deliver your perfect design while ensuring no details are missed. We sweat the small stuff, so you don't have to! If you do have any questions, please reach out to our experienced customer support team for assistance.
How to Design a Custom Hotel Key Card
You don't have to settle for generic key cards when there are so many hotel key card options available at Plastilam. Choose from a specialized selection of RFID key cards, magstripe key cards, and blank key cards to design the access management solution you need at your property. Stay within your room key budget without compromising on quality.
https://elements.envato.com/hotel-covid-LN5DZ7Q
Leverage our personalized "concierge" customer service for marketing and design consultations. Once the details are finalized, we do our due diligence before production begins. High standards and strict adherence to brand quality are a Plastilam promise. Reach out today and see how Plastilam can help turn your vision of a perfect guest experience into reality with beautiful custom hotel key cards!
Pick your favorite template and get started!
How Do Hotel Key Cards Work? | Hotel Access Control Explained
How magstripe key cards unlock hotel doors
Mag stripe key cards store data on a thin track on the back of the card. When the card is swiped through a card reader, the data is sent to the lock system for validation, giving access to rooms and facilities to guests or hospitality staff.
You can use the magstripe key cards to store guests' information such as room numbers, check-in and check-out dates, and other relevant security details.
The magnetic stripe key cards are available in HiCo and LoCo, which refer to the amount of data that can be stored on the card and the strength of the magnetic strip, respectively. These types of access control keycards can be customized to reflect your hotel's brand logo and colors.
How RFID Hotel Keycards Open Doors
RFID (Radio-Frequency Identification) room key cards use a technology called NFC (Near-Field Communication) to communicate with the hotel room's lock system. RFID hotel key card contains a small chip that stores critical information such as the guest's name, room number, and the dates of their stay.
When the patron approaches their suite entry with the RFID key card, the lock system emits a low-frequency radio signal that is detected by the chip, which then transits the stored information to the lock system, which verifies and unlocks the door if the information is correct.
​​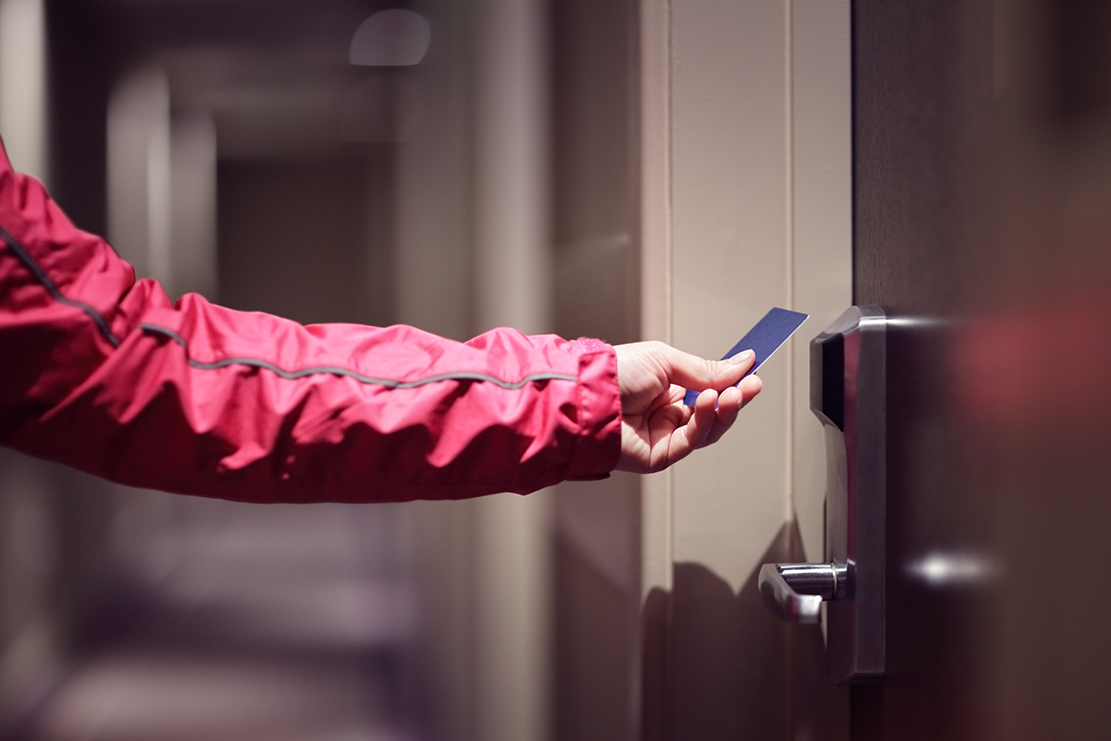 RFID technology allows for a more seamless, convenient, and efficient check-in guest experience while offering the possibility of keyless and contactless access, where guests can use their smartphone to enter their rooms instead of a physical key card.
In case the RFID key card is stolen or lost, you can remotely disable access and issue a new card at no additional cost, allowing for secure access, flexibility, and control at all times.
Customized hotel marketing materials for an elevated guest experience
Create a complete, cohesive, and elevated visitor experience at your hotel by using tailored materials such as custom key card holders, door hangers, and signage. These typically overlooked materials not only help in enhancing your branding and marketing efforts but also help create a sense of exclusivity and luxury for guests, thereby increasing customer satisfaction and loyalty.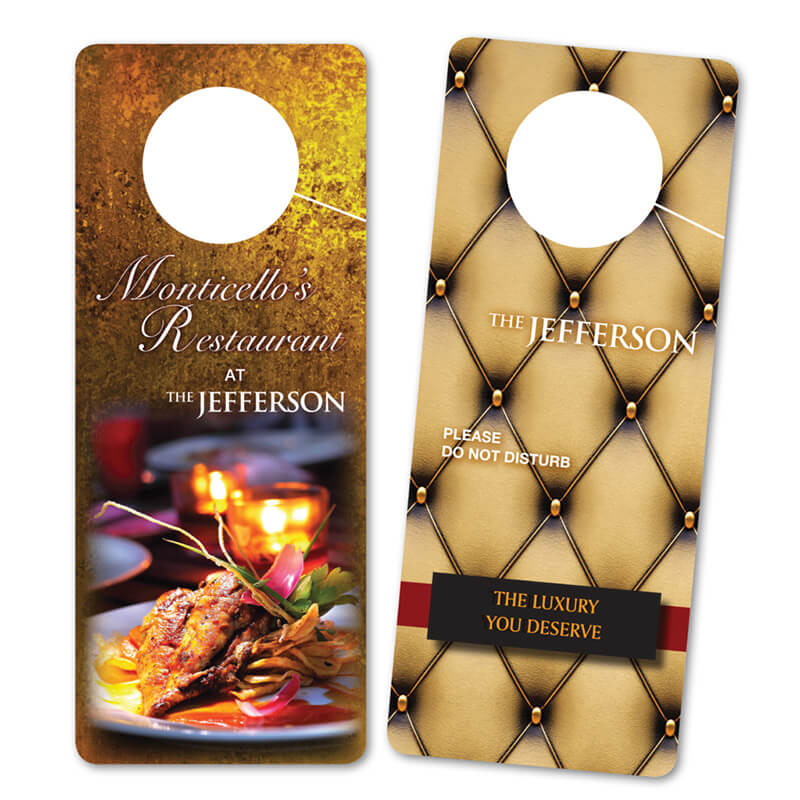 You can design custom keycard holders to showcase your brand, including different card types such as access cards, membership cards, loyalty cards, rewards cards, and discount cards. Additionally, customized parking passes can be used to further personalize the guest experience and make their stay more convenient.
3 Hotel Key Card Myths
Access control cards can be easily duplicated: Modern plastic cards, such as those offered by Plastilam, use encrypted technology that makes them difficult to duplicate ensuring superior security and reliability.
Hotel key cards stores guests' personal data: It is a common misconception that hotel key cards contain sensitive guest data, such as personal or financial information. The majority of hotel key cards store only room numbers and dates of stay.
Hotel key cards can only be used once: Hotel key cards are often reprogrammable and can be used over and over again to reduce waste and minimize costs.
5 Hotel Key Card Tips
Invest in a high-quality key card system that is secure and compatible with your lock system
Use custom key card holders to enhance the branding and marketing of your hotel.
Train your staff on proper key card handling procedures to prevent technical issues and loss or theft.
Regularly update and maintain your key card system to ensure it is functioning properly.
Consider offering a keyless and contactless entry option for guests for a smooth experience.